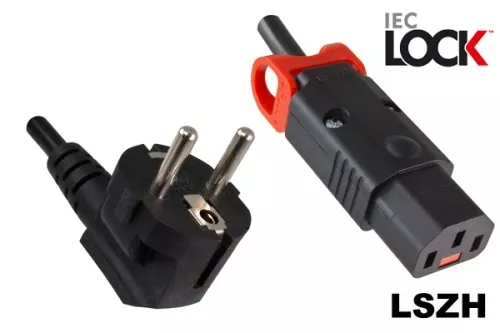 Power cord Europe CEE 7/7 90° to C13, 1mm², with lock, LSZH, black, length 1,50m
Power cable Europe LSZH - CEE 7/7 to IEC Lock C13, black, 1.50m
MAG item no.: CB-LOCK-EU-ZH
Plug: CEE 7/7 safety plug E+F 90° angled to IEC Lock C13
Color: black
Length: 1.50m
Cross section: 3 x 1mm²
Material: H05Z1Z1-F LSZH Low Smoke Zero Halogen
Approval: VDE, ENEC
RoHS compliant
Packaging: Bulk
IP 20
Cable and plug are LSZH certified
Countries:
Afghanistan, Algeria, Andorra, Austria, Belgium, Bosnia-Herzegovina, Bulgaria, Croatia, Czech Republic, Estonia, Finland, France, Germany, Greece, Hungary, Iceland, Indonesia, Latvia, Lithuania, Luxembourg, Macedonia, Moldova, Monaco, Montenegro, Morocco, Netherlands, Norway, Poland, Portugal, Romania, Russia, Serbia, Slovakia, Slovenia, South Korea, Spain, Sweden, Tunisia, Ukraine.

In Syria and Turkey there is no official standard, but the earthed plug is commonly used.

Plug type E+F CEE-7/7 system (YP-22)
In the grounding type plug, two protection systems were combined in one plug, so that the grounding takes place through the contact surfaces or the grounding prong (French system).

C13 plug with interlock
IEC 60320-C13 cold appliance plug is used for power connection of devices which do not generate heat during operation. The maximum temperature of the plug must not exceed 70°C and the maximum current flow is fixed at 10A. Cold appliance plugs do not fit into warm or hot appliance sockets.
Pull-off proof cold appliance coupler protects against accidental disconnection of power supply to PCs, servers and other electrical appliances.
compatible with all commercially available cold-device power inputs
protects devices susceptible to vibration
connector cannot be removed unintentionally
unlocking is done by pressing the red latching lever on the C13 power connector
up to 10 A
LSZH Low Smoke Zero Halogen
The terms Low Smoke Zero Halogen (LSZH) or Low Smoke Free of Halogen (LSFOH) are used in cabling technology for the classification of cable material. This refers to the behavior of thermoplastic materials in the event of fire, and to the flammability or flame resistance of the sheathing material of transmission cables. Low smoke means that the cable material produces only a small amount of smoke in the event of a fire, zero halogen means that it is halogen-free. In case of fire, such a cable material will not release corrosive or caustic acids.
This product is compatible with (for example):