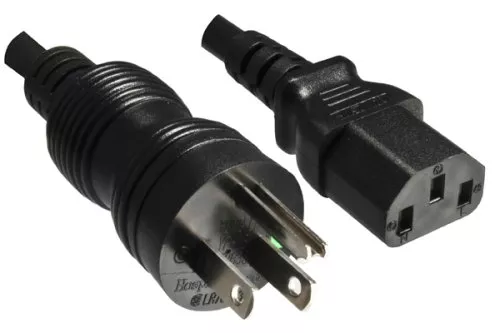 Power cable America USA Type B US NEMA 5-15P to C13, HOSPITAL GRADE, AWG18, SJT, UL, CSA, length 1.80m
Power cable USA - HOSPITAL GRADE - Type B to C13, 1.8m
MAG Part No.: CB-N-USHG (YP-18/YC-12)
Connector: Type B US NEMA 5-15P to C13 / 3-pin
Color: black
Length: 1,80m
Cross section: AWG 18 x 3
Approval: UL, CSA
RoHS compliant
Packaging: Bulk
Material: SJT
S = Service Grade (also means extra hard service when not followed by J, V or P)
J = Hard Service
T = Thermoplastic

Countries:
Canada, Mexico, Taiwan, USA
Connector Type B (YP-12)
The NEMA 5-15P connector has two flat parallel pins for neutral as well as live conductors and a round longer pin for the ground wire. It should be used for 120V, 60Hz maximum.

UL Specification 60601-1 specifically states that all patient-related precautionary equipment must have power cords with hospital grade connectors.

The main differences between standard NEMA and Hospital Grade NEMA connectors are as follows:
Metal pins must be solid brass to prevent breakage.
Strain relief must be provided on the inside of the plug mold, for stress reduction and reliable grounding.
The plug must pass several rigorous tests that UL conducts before approval.
The product must be marked with both a green dot and the words "Hospital Grade".
Plug C13 (YC-12)
IEC 60320-C13 cold appliance plug is used for power connection of equipment that does not generate heat during operation. The maximum temperature of the plug must not exceed 70°C and the maximum current flow is fixed at 10A. Cold appliance plugs do not fit into warm or hot appliance sockets.