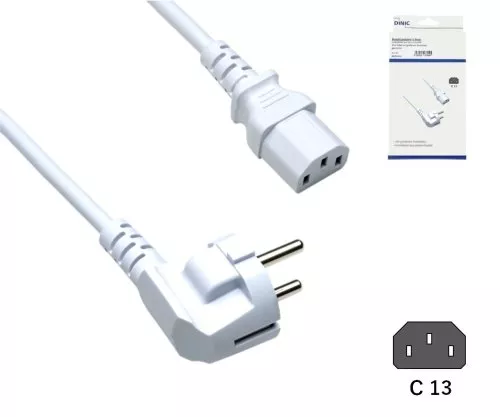 Power cord Europe CEE 7/7 90° to C13, 0,75mm², VDE, white, length 1,80m, DINIC box
DINIC Power Cable Schuko CEE 7/7 to C13, 1.80m - White
Experience the optimal blend of organisation, safety, and versatility with our coloured DINIC power cables. Designed in classic white, this cable greatly simplifies identification, cable management, and troubleshooting, whether in a domestic, office, or industrial environment.
Key Features:
Type: Cold device connection cable with protective contact plug CEE 7/7 to C13 socket.
Connections: 3-Pin power plug CEE 7/7, protective contact plug (Schuko) angled; 3-Pole cold device socket C13.
Cross-section: 3x 0.75mm², 3-wire cable.
Length & Colour: 1.80m long cable in classic white.
Material: H05VV-F - robust and durable.
Packaging: DINIC Box
In addition to these features, the DINIC power cable is extensively certified to meet the highest safety standards. It carries a variety of international certifications, including VDE, NF, DEMKO, FINKO, KEMA, CEBEC, OVE, IMQ, SEV, and SAA, ensuring its safe use in a wide range of environments worldwide.
The cable also complies with strict RoHS guidelines, which restrict the use of certain hazardous substances in electrical and electronic devices.
With the DINIC coloured power cable, you enjoy improved organisation, safe application, and effortless identification of your cabling solutions. It's the perfect combination of functionality and style - an enhancement for any power supply setup.