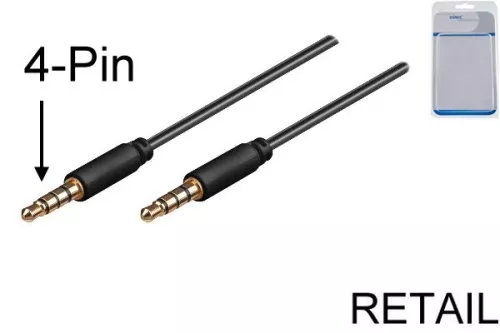 Audio Cable 4-pin 3,5mm Stereo jack male to male, 1,5m
4-pin 3,5mm Stereo jack TRRS (tip, ring, ring, sleeve)
Stereo cable with additional function. 3.5mm jack to jack
Copper conductor
Slim cable with gold plated connectors
shielded
Compact connectors
Retail box dimensions (BOX2-20)
Width: 116mm
Height: 220mm
Depth: 20mm
There is no recognised standard for TRRS connectors or compatibility with three conductor TRS. The four conductors of a TRRS connector are assigned to different purposes by different manufacturers. Any 3.5 mm plug can be plugged mechanically into any socket, but many combinations are electrically incompatible. For example, plugging TRRS headphones into a TRS headset socket (or the reverse), plugging TRS headphones or headsets into a TRRS socket, or plugging TRRS headphones or headsets from one manufacturer into a TRRS socket from another may not function correctly, or at all. Mono audio will usually work, but stereo audio or microphone may not work, depending on wiring. Signaling compatibility depends both on wiring compatibility and the signals sent by the hands-free/headphones controller being correctly interpreted by the phone.[original research?] Adapters that are wired for headsets will not work for stereo headphones and conversely. Further, as TTY/TDDs are wired as headsets, TTY adapters can also be used to connect a 2.5 mm headset to a phone.
3.5 mm TRRS (stereo-plus-mic) sockets became particularly common on smartphones, and have been used e.g. by Nokia since 2006; they are often compatible with standard 3.5 mm stereo headphones. Two different forms are frequently found, both of which place left audio on the tip and right audio on the first ring (mirroring the configuration found on stereo connectors). Where they differ is in the placement of the microphone and return contacts. The first, which places the ground return on the second ring and the microphone on the sleeve, is used by Apple's iPhone line (Starting with the iPhone 7, Apple has replaced the standard 3.5mm jack with their proprietary Lightning connector), HTC devices, latest Samsung, Nokia and Sony phones, among others. The second, which reverses these contacts, is used by older Nokia mobiles, older Samsung smartphones and some Sony Ericsson phones.There are adapters that swap the poles over to allow a device made to one standard to be used with a headset made to the other.
Some computers now include a TRRS headset socket, compatible with headsets intended for smartphones. One such pin assignment, with ground on the sleeve, is standardized in OMTP[32] and has been accepted as a national Chinese standard YDT 1885-2009.