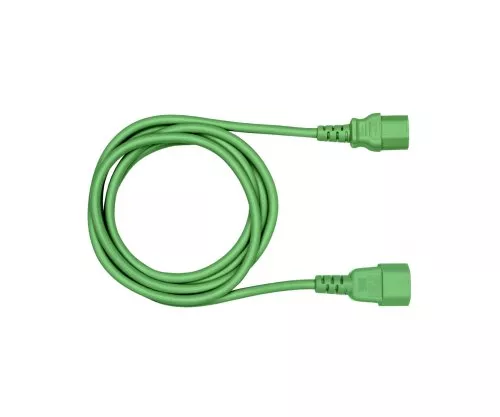 Cold appliance cable C13 to C14, 0,75mm², extension, VDE, green, length 1,80m
DINIC Cold Device Extension C13/C14, VDE, green, 1.80m
Description:
The green cold device extension from DINIC is not only an essential power cable for your cold devices but also a practical organizational tool. Its striking green color allows for easy differentiation of cables and devices, improving clarity and efficiency in both private and commercial settings.
This cable has a lenght of 1.80 meter and provides an IEC 60320-C13 plug (YC-12) and a C14 plug (YP-32) specifically designed for cold devices.
Made from high-quality H05VV-F material with a cross-section of 3 x 0.75 mm², this cable is suitable for an operating temperature range of -15°C to +70°C. It offers an IP20 protection rating and is approved according to ENEC 10 VDE (Europe) standards, complying with RoHS guidelines.
The DINIC cold device extension is supplied in bulk packaging, facilitating transport and storage. Whether in the office, data center, or at home, this cold device extension is a reliable and stylish solution for your power supply needs.
Key Features:

Brand: DINIC
Plug: C13 (YC-12) / C14 (YP-32), also known as cold device plug
Color: Green, ideal for easy differentiation of cables and devices
Length: 1.80 meter
Cross-section: 3 x 0.75mm²
Material: H05VV-F
Operating temperature range: -15°C to +70°C
Maximum current capacity: 10 A
Protection rating: IP20
Approval: ENEC 10 VDE (Europe)
RoHS compliant
Packaging: Bulk
Ideal for cold devices