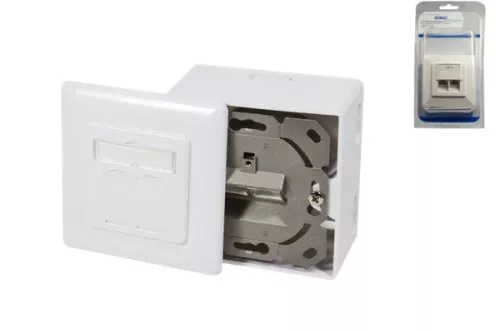 DINIC Blister Cat.6/5 network socket double, RJ45 universal flush and surface mount, shielded, LSA
DINIC network socket Cat. 6, double, blister packaging
DINIC Blister: This product is delivered in a sales-promoting
blister packaging, which is equipped with a Euro hole.
This Cat. 6 network outlet is suitable for flush, surface or cable channel mounting, the surface mount frame is included.
Features:
Network socket Cat.6. fully shielded, with surface mount housing
Cat.6 according to ISO/IEC 11801 and TIA/EIA-568
Horizontal cable entry with strain relief
LSA insulation displacement connection for AWG 22-24
2 shielded R45 jacks 40° angled
Rugged zinc die-cast housing with strain relief
Flush-mounted, surface-mounted or cable duct installation
Color: Signal white, similar to RAL 9003
Surface mount housing included
Supports PoE, PoE+ and PoE++
el feed
Full shielding
Packaging: DINIC blister
Packaging dimensions (BOX 2-40)
Width: 110mm
height: 220mm
Depth: 40mm
Advantages for the customer and the installer on site
Basic housing is round and smaller, thus easier installation in cable ducts and flush-mounted electrical boxes
Cable feed optionally from the right or left side or both sides at the same time
Only one box plus surface-mount housing required for surface and flush mounting
On-site installers only need the additional surface-mount housing to be flexible (sus the flush-mount to make a surface-mount box)
Surface mount housing provides more space for cable routing
Correct strain relief is provided by clamping screw
LSA connection technology
In communications technology, the wires of a cable are individually pressed together with the insulation into a so-called insulation displacement connector using a special tool, the so-called lay-on tool or lay-on tool. In the process, the tool shortens the excess wire end and the sharp contacts in the metal IDC cut through the insulation of the wire, creating a gas-tight electrical connection. This connection technology works without soldering, screwing and stripping, which is why it is also known as solderless, screwless and stripping-free technology, or LSA technology for short. The brand name "LSA-PLUS" of ADC Krone is also derived from this.
Customers who bought this product bought also the following products: